Latest News


europa_cup_-_information_sheet.pdf
Every year the Vizsla European Field Trial Championships also known as the Europa Cup are hosted by a different country and their respective Vizsla Club. Due to the Pandemic, last year due to be held in Germany did not take place. This year however the Europa Cup Official Organising Committee are determined to make sure that it goes ahead this year and is set to be held in Czech Republic. The purpose of the Championship as set out in its manifesto is "to provide a selection of dogs from across Europe in good health and well proportioned according to the standard of the breed, which hunt efficiently in a breed appropriate style in a top class international competition in order to provide an essential contribution to the selection of the genetically best transmitting dogs for the improvement of the hunting ability of the Magyar Vizsla. It offers hunters and dog lovers the opportunity of meeting each other in a top class competition in order to stimulate the interest for using the Magyar Vizsla as a hunting dog and to promote the sport." It is a prestigious event for the breeds both smooth and wirehaired and with that in mind the event crowns the new Vizsla European Field Trial Champion for that year.
More information on this prestigious and exciting event can be found
here
and on the link below:
ec_official_program.jpg
​
---
Hungarian Vizsla Society welcomes our new patron
The Countess of Suffolk and Berkshire, the Patron of the Hungarian Vizsla Society.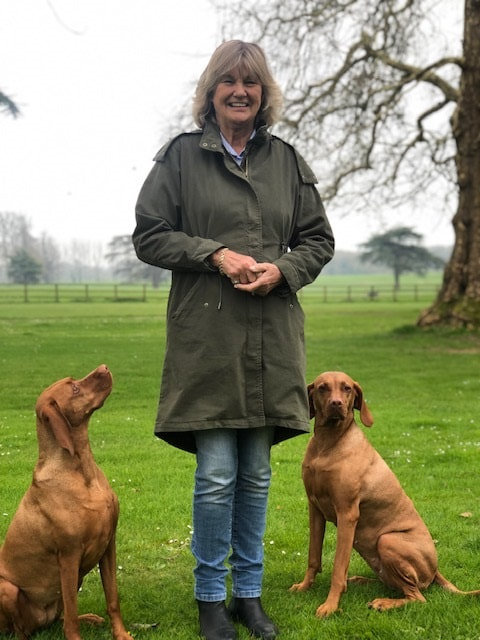 Linda Suffolk, with "Mable and Maud" a winter photo in Charlton Park, Malmesbury.
---
Upcoming Dates for your Diary

Hungarian Vizsla Society will be held in partnership with Birmingham National
Thursday 23rd September at Staffordshire County Showground, Weston Road Stafford ST18 0BD
Breed Club Championship Show
3 Special Award Classes
(held under Kennel Club Limited Rules & Regulations)
Judge: Gordon Haran (Magregor)
Special Awards Judge: Bronja Milicevic (Andronja)
Schedules are now live on www.fossedata.co.uk
​online entries only
Visit our Facebook Page and like us
For updates on Vizsla specific news visit us on our Facebook Page,
​

---
Why we need your ongoing membership
Membership is not just for people who show and/or work their Vizslas - it is for owners who care about the breed and for prospective owners who are interested in the breed. Whether your Vizsla is a companion or pet, or has a full time job as an assistance dog, they all need safeguarding now and for the future. We have many members from other Hunt Point Retrieve Breeds, who are members of the Society for the access to our Events at Members Rates. It is a fascinating dog community.
What we Do for the Vizsla
The Hungarian Vizsla Society promotes and safeguards the Health Quality and Welfare of the Vizsla, by work which is done nationally to educate influence and persuade breeders to adopt minimum standards.
The Code of Conduct
requires them to health test their animals before Breeding, and abide by age restrictions and limits the numbers of litters in a lifetime of the bitch.
We also set standards on the purchase transaction so that every aspect of commerce is transparent, and buyers can have confidence that it is a safer transaction than buying from Breeders who do not comply with those minimum standards.
We have access to our own Health Panel of Veterinary Professionals who can give us meaningful guidance to any emerging health trends and help shape our response.
Getting more Breeders to be compliant is what you achieve for the Vizsla through your membership subscription. That means that you are playing your part in reducing abuse of the Vizsla and actively reducing defects and disease.
What we do for our Members.
The Hungarian Vizsla Society hold a wide variety of Kennel Club licensed events each year as well as offering many services and advice.
The Society is fully regulated, by the UK Kennel Club - is insured for all events & risks and strives for data protection GDPR compliance. A taster of some of the things we do each year or as required.
 A number of Field Trials and Spring Pointing Tests
 Training Days as needed.
 A Summer Working Test.
 A Championship Dog Show in April each year.
 An Open Dog Show in November of each year.
 Occasional events and "get-togethers" as advertised.
 You will receive our Newsletter twice yearly. (usually June and December)
 We offer advice and assistance on Hungarian Vizsla breed issues. and Breed Appreciation Days for aspirant Judges
 We offer HVS Logo merchandise, gundog training accessories and breed interest items for sale.
We have an Open Facebook Page updated weekly with Vizsla issues, UK and worldwide.
We adhere to the Code of Good Shooting Practice, in partnership with our land hosts.
We support our sister organisation Vizsla Rescue, now a charitable organisation in their aims to achieve long term second homes for Vizslas of any age who are displaced.
All of this can only be achieved with healthy numbers of membership on an annual basis. So look at what your membership fee achieves for the Vizsla and for You - it all makes sense, it all matters to the Vizsla.
---