Latest News
HVS Working Test Photos
Photographs from commercial photographer ALFEE IMAGES, of the Puppy and Novice Classes at the recent Working Test at Over Norton can be viewed and purchased on their web page. Just click on the picture to be taken to the folder.
​For a list of results please
click this link.
Free Event
Saturday 11th May 2019, parliament hill viewing point
​hampstead heath, london.
​see links below or click on image.
Spring Pointing Test Report
For results of the Spring Pointing Test at Holme Farm, Kelby on Saturday 20th April, 2019, please
click here.
No photos of the dogs available as yet, so we can make do with photos of the Judges on the day. Sylvia Cox, and Jason Hudson.
​
Sylvia Cox - A Panel Judge
Judge Jason Hudson
Spring Pointing Test Report
The Hungarian Vizsla Society held a spring pointing test on Saturday 13th April, 2019 at Brandon. The Judges were Trevor Rigby and Paul Nixon. The only dog graded on the day was HVS Member Deb Brown's Sigourney Maverick whose grading was "Good".

​Photo of smiling faces shown below.


From left to right - Our ground host Malcolm Partridge, Senior A Panel Judge Trevor Rigby, Handler Deb Browns with GSP Dog Sigourney Maverick, and Judge Paul Nixon. Hope the competitors enjoyed their day.
---
Hungarian Vizsla Society Championship Show 7th April 2019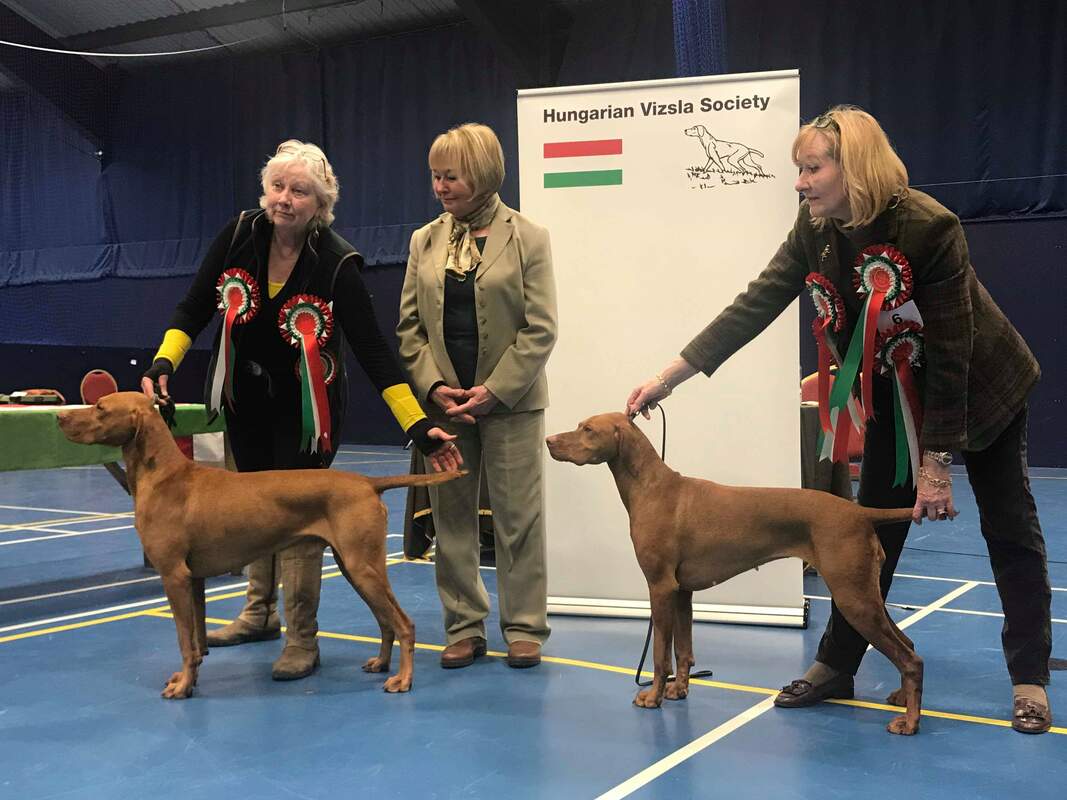 Upcoming Dates for your Diary
Sunday 7th April 2019,
Championship Dog Show,
Ryton on Dunsmore, CV8 3FC
Results here please click
Saturday 13th April, 2019,
HPR Spring Pointing Test,
Stubton, Newark, NG23 5DA
Saturday 20th April, 2019.
HPR Spring Pointing Test,
Grantham, NG32 3AJ
Saturday 11th May, 2019
Hounds of Hungary Event - Fun Day,
Richmond Park, TW10 5HS.
Tickets free Eventbrite
Sunday 26th May, 2019,
HPR Gundog Working Test
Over Worton, Oxfordshire, OX7 7ES
​Sunday 3rd November 2019, Open Show at Ryton on Dunsmore, CV8 3FC
Visit our Facebook Page and like us
For updates on Vizsla specific news visit us on our Facebook Page,
​

hvs agm 2019
HUNGARIAN VIZSLA SOCIETY Notice of Annual General Meeting

To be held on Sunday 24th February 2019, at Moulsoe Millennium Village Hall, Cranfield Rd, Moulsoe Newport Pagnell MK16 0HB - commencing at 2.15pm prompt.

We are offering at the Annual General Meeting, three www.vizsla.org.uk tables made up of one breed specialist with four guests on a first come first served basis. The format will be 25 minutes with your breed specialist and your three colleagues to ask any question whatsoever which is Vizsla specific. It will be limited to four people so that it becomes an intimate and precious moment, where hopefully you will learn something that you will treasure for many years to come.
The three specialists that have agreed to do this for you and to put their heads above the parapet are our President

Sylvia Cox who will talk about "The Hidden Critique",
our past Chairman and Field Trial Secretary Suzanne Harris whose title is "Designed to Work"
and Breed Education Coordinator (BEC) Christine Ryan who will talk about "A Century of Breed Type".

Between them they have issued many sets of Challenge Certificates and have over 100 years of experience with the Vizsla. There is no cost to this - absolutely free for something that money couldn't buy.

If you get to the AGM at least 40 minutes before it starts, and you happen to be one of the first dozen people there, you will be able to share their expert knowledge in an intimate way and not in a large classroom situation. We will even have beverages and cake available to you for your one-to-one with your breed specialist. Why don't you ask them about that moment in time when their Vizsla mentor shared knowledge with them and what it was? The stopwatch will beep at the end of 20 minutes and we will quickly go towards the start of the Annual General Meeting itself. If that is an opportunity that you would like to take up - you need to be at the AGM at least 35 minutes before the start of the meeting (scheduled for 2pm).

​We look forward to seeing those that want to take up the offer. It could be a "Precious Moment" for years to come.


---
hvs open show
Results for the Open Show held on 4th November 2018 can be found
HERE
---
crgv or alabama rot
Verity Griffiths has kindly written regarding this awful disease, it can be found
HERE
.
---
Field trial Schedule
For Field Trial Schedule, Standing Instructions and Entry Form see
HERE
---
idiopathic epilepsy in the hungarian vizsla
Please click
HERE
to go to information and a study being undertaken by the Animal Health Trust
---
Why we need your membership

Membership is not just for people who show and/or work their Vizslas - it is for owners who care about the breed and for prospective owners who are interested in the breed.

We aim to protect the future of this wonderful breed and provide organisational safeguarding. We need your membership in order to continue doing this.

If there were no breed clubs, none of this would be possible. You may not have the time to help us, but just by being a member of the Hungarian Vizsla Society, you are supporting the breed that we all love so much.
---