Field trial results 2021/2022

Hungarian VizSla society
open stake - kingham hill farm
11th January 2022 results here

Novice Field Trial - Glemham Hall Shoot, Suffolk
4th October 2021 results here

Hungarian Vizsla Society
All Aged Stake at Grange Farm, Stoke Rochford
1st November 2021 results here











field trial results 2019/2020
All Aged Field Trial at Over Worton, Oxfordshire, OX7 7ES
on Thursday 30th January 2020, by Kind Permission Richard and Jenny Schuster, facilitated by Jim and Ruby Field,
Judges Nigel Dear and Nigel Wroe.

1st Place Louise Holmes with Moorrunner Isla at Gillyfield - GWP
2nd Place Rachel Newman with Zoldmali Szeles Morganna - HWV
3rd Place Rory Major handling Gill Belton's Nagyalfoldi-Vadasz Alca - HV
​4th Place Phil Pearson with Stubblemere Fulmar - GSP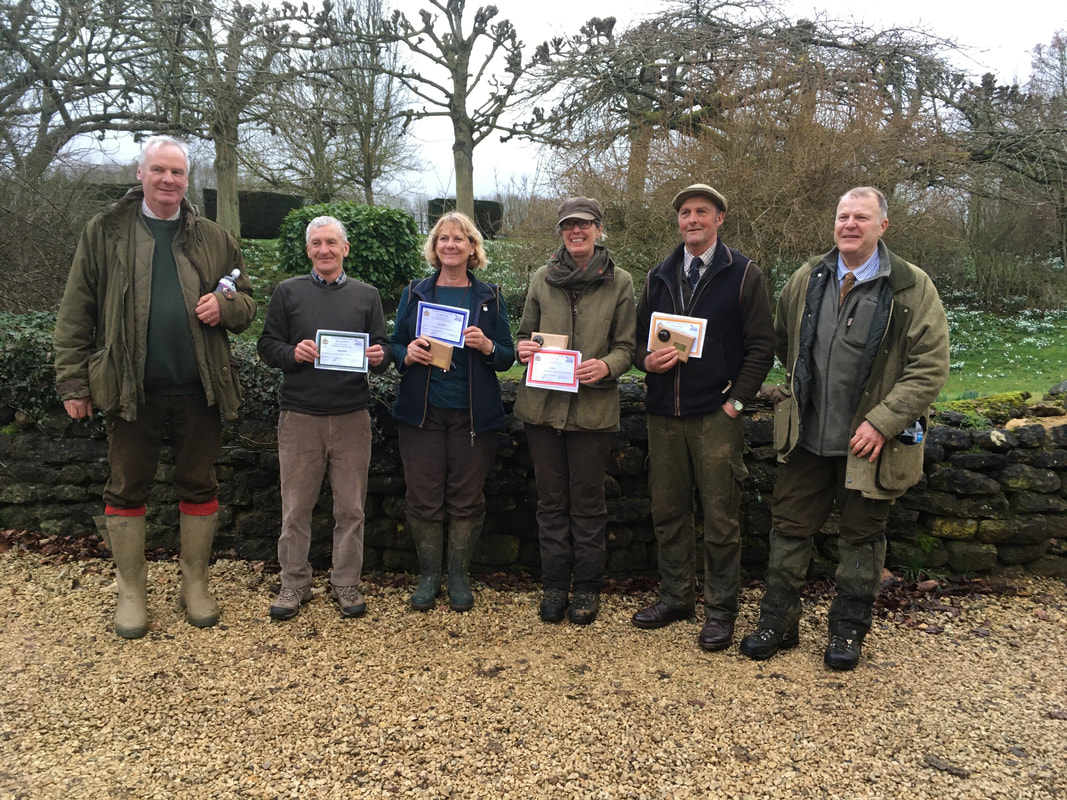 Photo above Over Worton All Aged Stakes, Left to Right, Judge Nigel Dear, Phil Pearson, Rachel Newman, Louise Holmes, Rory Major, and Judge Nigel Wroe
---

Over Worton, Judges and competitors with outgoing Field Trial Secretary Shirley Mattravers, centre stage and a beaming smile after delivering with her team a full season of 7 Kennel Club Licensed Field Trials throughout the United Kingdom.
---
Novice Field Trial, at North Lodge Farm, Widmerpool NG12 5QE
Monday 27th January 2020
By Kind Permission of Mr C A Butterfield.
Judges Rita Dockray (2245) & Mr Bradley Dymond (3806)

1st Place Bruno Von Schwarcenberg GWP, handled by Rory Major
2nd Place Not Awarded
3rd Place Not Awarded

Certificates of Merit
Woksebs Tendresse Stockenberge, (Weimar) owned and handled by Chris Spree.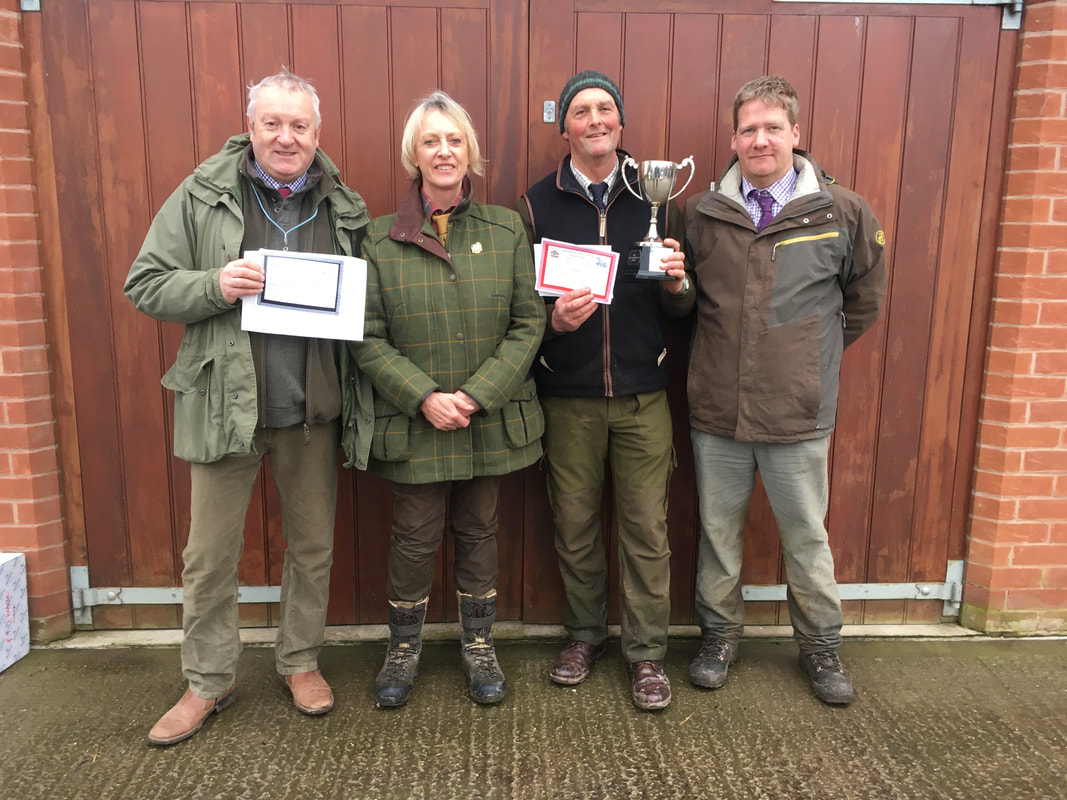 ​Photo above Novice Trial Widmerpool
Left to right: Chris Spree, Rita Dockwray (Judge) Rory Major, holding the Keith Scattergood Trophy and Judge Bradley Dymond
---
Open Field Trial, at Kingham Hill Farm, Kingham Oxon
​Wednesday 15th January 2020
By Kind Permission of C W Smith & Son
Judges Suzi Burton and Mark Spearing

1st place - not Awarded.
2nd - Merle Haggard - GWP- Geoff Saint
3rd - Beechwolf Tonka - GWP - Rory Major

Certificate of Merit's to

Hunterstone Uno - HV - Mac Mattravers
Stubblmere Guthrie - GSP- Fleur Fillingham
Sanjika Beretta - IS - Tom Warner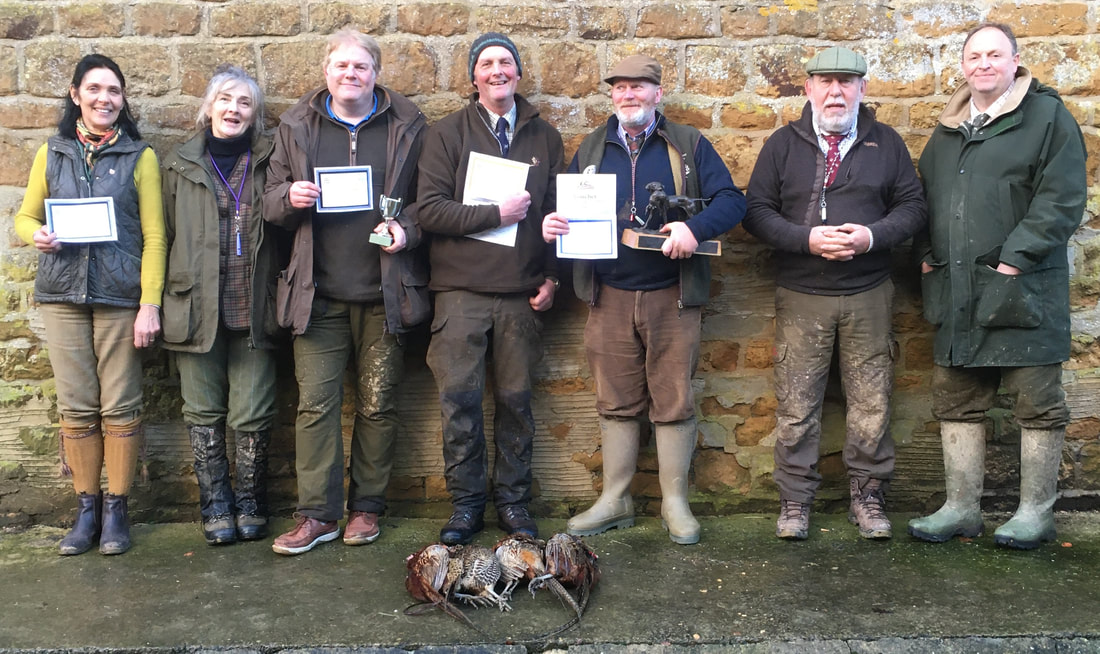 Photo above from Kingham Open Stakes, from left to right.
​Fleur Fillingham - Judge Suzi Burton - Tom Warner -- Rory Major - Geoff Saint (with the "Daxpack Winners Trophy" - Mac Mattravers - Judge Mark Spearing.
Our thanks to Penny Simpson for allowing the above gallery of photographs to be illustrated on our web site. Photos are all of the Kingham Open Field Trial.
---
Novice Field Trial, Ancrum Estate, Northumberland
Tuesday 26th November 2019,
By kind permission of Lord Lothian.
Judges Roy Cullen and Jason Hudson,
1st Place - not awarded.
2nd Place - not awarded.
3rd Place - not awarded
4th Place - Ben Barrett with GSP Aytee Kalimar, and also took the award from the Guns.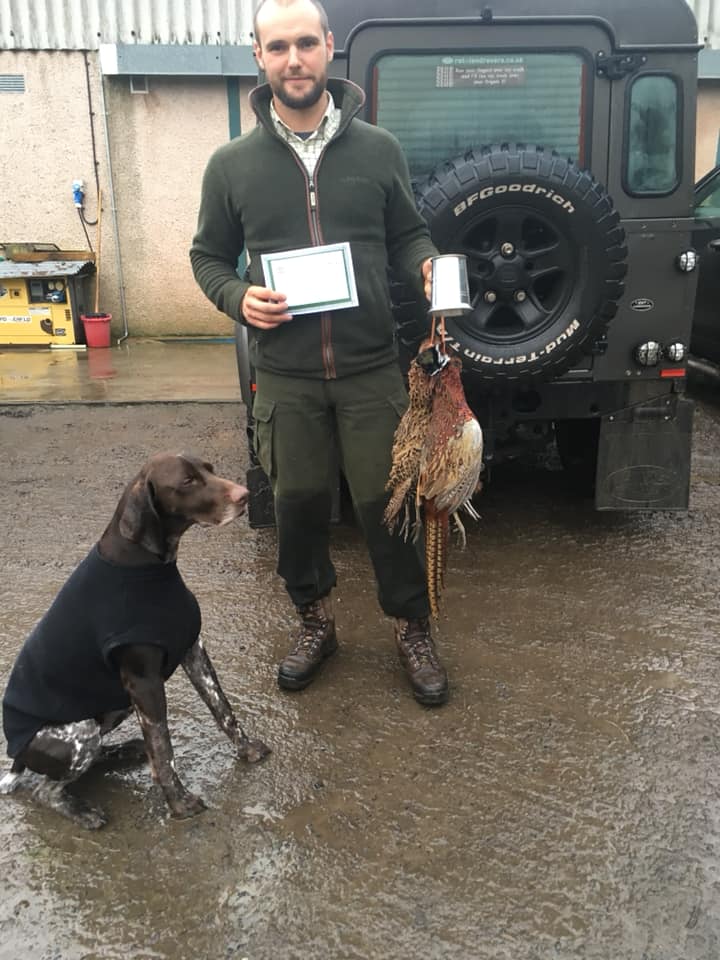 Photo of Ben Barrett with Aytee Kalimar
All Aged Venue Stoke Rochford, Grantham, Lincolnshire
Monday 4th November, 2019,
by kind permission of Mr Neil McCorquodale
Judges Mr Peter Bakewell amd Mr Geoff Saint
1st Place - Not Awarded
2nd Place - Not Awarded
3rd Place - Moorrunner Isla at Gillyfield - German Wirehaired Pointer - Handler, Louise Holmes
​4th Place - Tweed Mull - Hungarian Wirehaired Vizsla - Handler, Simon Bennett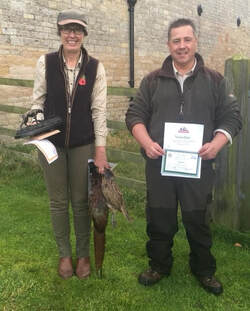 ​
---
Courtesy of Nigel Cox, a slideshow of images from the day at Stoke Rochford All Aged Field Trial
Open Stake, at Apley Park, Shropshire
Monday 28th October 2019
by Kind Permission of The Lord Hamilton of Dalzell
Judges Lee Loveridge and Fred Alcock.
1st Place - Not Awarded
2nd Place - Not Awarded
3rd Place - Tickencote One Way Ticket, German Wirehaired Pointer - Handler Una Russell
​4th Place - Dual Ch Jaudas Heartbeat, Large Munsterlander Handled by Rory Major.
Cert Of Merit - Irish FT Ch. Aytee Juniper, German Shorthaired Pointer, Handler Luci Hustler
Photographs courtesy of Nigel Dear.
​
1. Judges Fred Alcock and Lee Loveridge
2. A Fine team of Guns.
3. Una Russell
4. Rory Major
5. Luci Hustler

Presentations were made by Ros Dear to the successful competitors.

_____________________________________________________________________________
All Aged Trial at Stapleford Shoot near Melton Mowbray, Leicestershire.
Thursday 24th October 2019.
By kind Permission of Mr Ralph Sturgess
Judges Sylvia Cox and Stephen Pleasance.
1st Place - Questor Llewelyn, German Longhaired Pointer handled by H. Kirby
2nd Place - No Award
3rd Place - Ch. Zoldmali Szeles Morganna J.W. Hungarian Wirehaired Vizsla handled by Rachel Newman
4th Place - No Award.
Cert of Merit - Wamilanghaar Hurricance of Mullenscote, German Longhaired Pointer Handled by Howard Kirby



​

​
| | |
| --- | --- |
| Field Trial rESULTS 2018/19 | --- |

Open Stake, Apley Park

Results
No Awards


---
All Aged Stake, Stoke Rochford-

Results
1st. BERRIEDALE VESTA of RIFFMUIR. GSP. A.LEARMONTH.
2nd. LIGHTNING LOTTI at O'HEWLING DRAGGON. GSP. H.KIRBY.
3rd. MORSEBACK PATCH. GSP. L. LOVERIDGE.
4th. VANDA ZOLDMALI CANALGAME'S HWV. F.BRILEY.
Certificate of Merit:

WATERGERMANNDER over BORDERPOINT. GSP. R.STEEL.

NOVICE. ANCRUM Estate. Nr. JEDBURGH.

Results:
1st. Mr WILSON at MALEHAZE. GWP. R.CULLEN.
2nd/3rd. No Awards.
4th. ZOLDMALI TARLO. HWV. G.SAINT.
Certificate of Merit:
KARROUKI WINDRUSH . HV. Susanna Mills.




---
All Aged Stake Glemham


Results
​No Awards


---
Open Stake Kingham

Results

1st. RED SKY RAMBLER. HWV.L.BUNN
2nd. STUBBLEMERE EVANESCO. GSP. M.CANHM.
3rd. TICKENCOTE A NITE LIKE THIS. GWP. P.HOWARD.
4th. TICKENCOTE ONE WAY TICKET. GWP. U.RUSSELL
Certificate of Merit.
HUNTERSTONE RHEA. S.MATTRAVERS.







---
Novice Stake, North Lodge Farm-

1st/2nd/3rd/4th. No Awards.
Certificate of Merits;

DEEPTHATCH ROCKET. GSP. Mrs.R. WEBSTER.
ESSEN NAZIA MEISTER. GWP R.MAJOR.



---