field trial results 2019/2020
All Aged Venue Stoke Rochford, Grantham, Lincolnshire
Monday 4th November, 2019,
by kind permission of Mr Neil McCorquodale
Judges Mr Peter Bakewell amd Mr Geoff Saint
1st Place - Not Awarded
2nd Place - Not Awarded
3rd Place - Moorrunner Isla at Gillyfield - German Wirehaired Pointer - Handler, Louise Holmes
​4th Place - Tweed Mull - Hungarian Wirehaired Vizsla - Handler, Simon Bennett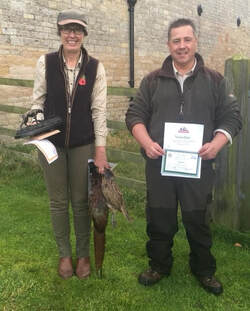 ​
---
Courtesy of Nigel Cox, a slideshow of images from the day at Stoke Rochford All Aged Field Trial
Open Stake, at Apley Park, Shropshire
Monday 28th October 2019
by Kind Permission of The Lord Hamilton of Dalzell
Judges Lee Loveridge and Fred Alcock.
1st Place - Not Awarded
2nd Place - Not Awarded
3rd Place - Tickencote One Way Ticket, German Wirehaired Pointer - Handler Una Russell
​4th Place - Dual Ch Jaudas Heartbeat, Large Munsterlander Handled by Rory Major.
Cert Of Merit - Irish FT Ch. Aytee Juniper, German Shorthaired Pointer, Handler Luci Hustler
Photographs courtesy of Nigel Dear.
​
1. Judges Fred Alcock and Lee Loveridge
2. A Fine team of Guns.
3. Una Russell
4. Rory Major
5. Luci Hustler

Presentations were made by Ros Dear to the successful competitors.

_____________________________________________________________________________
All Aged Trial at Stapleford Shoot near Melton Mowbray, Leicestershire.
Thursday 24th October 2019.
By kind Permission of Mr Ralph Sturgess
Judges Sylvia Cox and Stephen Pleasance.
1st Place - Questor Llewelyn, German Longhaired Pointer handled by H. Kirby
2nd Place - No Award
3rd Place - Ch. Zoldmali Szeles Morganna J.W. Hungarian Wirehaired Vizsla handled by Rachel Newman
4th Place - No Award.
Cert of Merit - Wamilanghaar Hurricance of Mullenscote, German Longhaired Pointer Handled by Howard Kirby



​

​
| | |
| --- | --- |
| Field Trial rESULTS 2018/19 | --- |

Open Stake, Apley Park

Results
No Awards


---
All Aged Stake, Stoke Rochford-

Results
1st. BERRIEDALE VESTA of RIFFMUIR. GSP. A.LEARMONTH.
2nd. LIGHTNING LOTTI at O'HEWLING DRAGGON. GSP. H.KIRBY.
3rd. MORSEBACK PATCH. GSP. L. LOVERIDGE.
4th. VANDA ZOLDMALI CANALGAME'S HWV. F.BRILEY.
Certificate of Merit:

WATERGERMANNDER over BORDERPOINT. GSP. R.STEEL.

NOVICE. ANCRUM Estate. Nr. JEDBURGH.

Results:
1st. Mr WILSON at MALEHAZE. GWP. R.CULLEN.
2nd/3rd. No Awards.
4th. ZOLDMALI TARLO. HWV. G.SAINT.
Certificate of Merit:
KARROUKI WINDRUSH . HV. Susanna Mills.




---
All Aged Stake Glemham


Results
​No Awards


---
Open Stake Kingham

Results

1st. RED SKY RAMBLER. HWV.L.BUNN
2nd. STUBBLEMERE EVANESCO. GSP. M.CANHM.
3rd. TICKENCOTE A NITE LIKE THIS. GWP. P.HOWARD.
4th. TICKENCOTE ONE WAY TICKET. GWP. U.RUSSELL
Certificate of Merit.
HUNTERSTONE RHEA. S.MATTRAVERS.







---
Novice Stake, North Lodge Farm-

1st/2nd/3rd/4th. No Awards.
Certificate of Merits;

DEEPTHATCH ROCKET. GSP. Mrs.R. WEBSTER.
ESSEN NAZIA MEISTER. GWP R.MAJOR.



---